Rising Stars
On most Fridays we hold a special Rising Stars Assembly which is a wonderful opportunity to celebrate the special achievements of the children at Priory Rise School. This can include special awards or achievements that children have gained from out of school activities as well as achievements from school.
We have Rising Star Certificates which are awarded to children who have achieved something special or worked exceptionally hard over the week; details of all of these achievements will be published on the website and in the school newsletters.
We greatly value every child's work and achievements and feel it is very important to acknowledge and celebrate this in school. At the end of each school year we present special awards to children who have shown great commitment and worked hard to achieve highly. These awards are given for Creativity, Learning, Sports and Contribution to the Community.
Rising Stars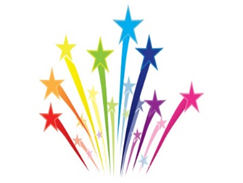 You can see our Rising Stars awards for week ending 26th May 2023 below.
Year 1
Jeffers
Murphy
McKee

Arthur

Frank

Noah

Pranavi

Year 2
Rosen
Donaldson
Bright

Aariya

Cameron

Year 3
Morpurgo
Browne
Pullman

Alisha

Rakshanth

Isla

Jade

Year 4
Mackenzie
Wilson
Fletcher

Anuhya

Jamilio

Jacob

Kuhu

Year 5
Rowling
Blackman
Horowitz

Georgia

Zohan

Bossley

Rhea

Henry

Sofia

Year 6
Paver
Elphinstone
Rundell

Amelia

Nicole

Leonie

Mirza

Anaya

Scott
Well done to all the children who received awards, we are very proud of you!